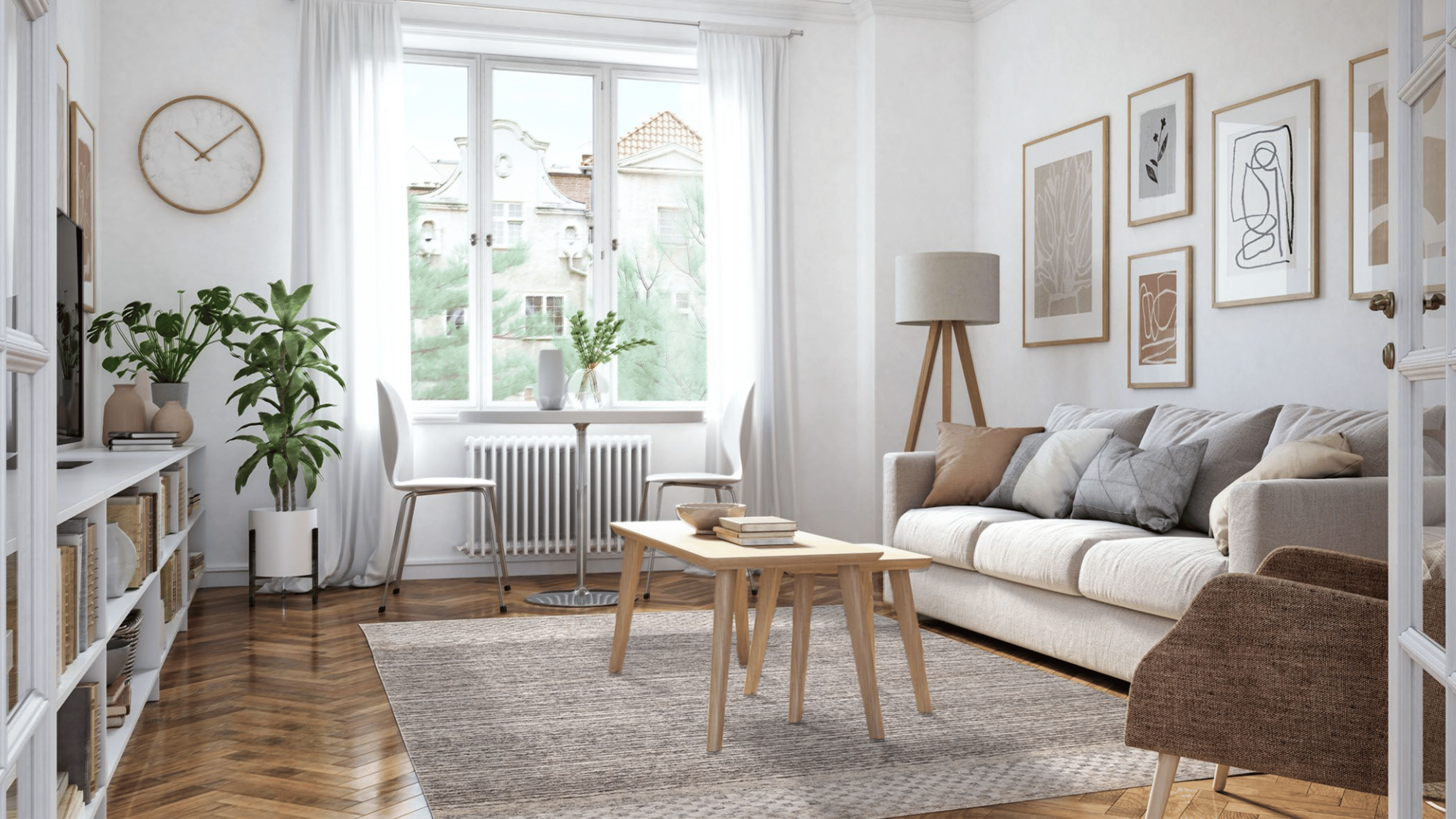 How to Pick the Proper Size Rug for Your Room
How to Pick the Proper Size Rug for Your Room
When it comes to interior design, we've all heard the quote, "that rug really ties the room together," which highlights the importance of selecting the right rug for any given space. This quote doesn't just speak to the color and design, but also the size, which ties the elements of the room together and keeps things feeling cohesive. For many, this is a daunting task, akin to the challenges Goldilocks would have faced if she had taken the path to interior design instead. Fortunately, there will be no bears tearing through our living rooms, but we do need to keep an eye on our overall design!
Many interior designers will tell you that the most common mistake they come across, one that detracts from the overall aesthetic, is when a rug is too small. While different rooms have different rules, there are some general guidelines to follow which will help keep your design elements cohesive and charming. When a rug is too small, it makes the room feel crowded and uninviting. When the rug is too large, it can overpower the room and make the space feel much smaller. It can also dilute the finer details of your furniture pieces, as they get lost in the color and design of the rug.

With the right size rug, this unifying layer will add a level of interest to your space, a splash of color, and create a charming dynamic between furniture pieces that will have your guests staying long past the last call!

Measure Twice, Purchase Once

The first thing you want to do is measure your space, twice. Knowing the dimensions of your room and the proper sizing for your rug before clicking the "checkout" button on your shopping cart will go a long way in building confident design decisions. Unfortunately, many people simply eyeball the room, then pick the furniture and rug to fill it. While you may get lucky, this can be a costly and time-consuming mistake.

By measuring first, you will be able to fine-tune your search to only show rugs in the correct dimensions, which will help reduce the time spent swimming through an endless sea of choices. You can then focus on the color, style, and material, without having to go back and forth looking for the correct size. It will also help you determine how to layout your furniture and direct those high-traffic areas through the room.

When In Doubt, Tape It Out

To get started, after you have taken the measurements of your room, grab your masking tape. If you have trouble visualizing how a rug will fit in your space, start putting down some outlines. While dimensions are important, equally important is the layout and purpose of the room. By using masking tape, you will see how a rug would look in different configurations. It will also help you determine where your furniture will sit and how foot traffic will be impacted.

Unlike Goldilocks, the Living Room Has Two Good Options

Each room has a unique set of guidelines when it comes to choosing the best rug size. For example, there are three options in the living room, though only two of which are usually recommended.

The first is to have all the furniture legs sitting on the rug. In this situation, the rug keeps all of the pieces together and helps to create a dedicated space for seating. Using this layout, the rug should extend at least 6" past the furniture on all sides. Typically, a 9'-by-12' rug will be optimal, as this gives enough room for the sofa, coffee table, and other pieces while allowing for enough space to move between them.

The second option is to have just the front legs of your furniture on the rug. This is more often seen in smaller living rooms or when a sofa is backed up against the wall. It's also popular when you have beautiful hardwood floors or foot traffic moving around the outskirts of the seating area. Going with this option puts greater emphasis on the rug, making it more of a focal point, and can help the room feel more spacious. For this option, an 8'-by-10' or even 9'-by-6' rug would do the trick.

The third option is going with a small rug that lies beneath the coffee table. A risky move and one that usually has designers shaking their heads, using a small rug in this way will make your space feel cramped and give the effect of floating furniture. While a large rug is an excellent way of bringing different furniture styles together, using a smaller rug can leave things feeling chaotic and unorganized.

If you have a smaller rug that you absolutely love, the best way to make this work is to layer it on top of another rug, one that follows the guidelines of the previous two options. In this scenario, you would not want to use two rugs that feature highly dynamic colors or designs, as they will compete with each other. Instead, going with a simpler design or color palette for one will bolster the elements of the other.

Setting the Plate, a Dining Room Rug

When it comes to your dining room, the rules are simple: All chairs should sit on the rug. To do this, make sure that your rug extends 24"- 36" beyond the table on all sides. The worst thing is when you slide your chair back and it slips off the rug, only to snag when you slide it back in. Because you are basing your rug size off your table size, it is best to hold off on rug shopping until your table has been chosen. Then, simply add 60" to your table dimensions, and you're good to go!

Size Does Matter, To A Degree

The most important thing to remember is that these are only guidelines. Not all rooms are created equal, and the important thing is to take your time and think about how you want your overall design to look and for your space to feel before making any purchases. A rug should be a reflection of your taste, and of the overall aesthetic you are trying to achieve. The right rug will tie all of the room elements together while adding a pop of style to your space. There is no one-size-fits-all, but by following these guidelines, you will be a few steps closer to finding the perfect rug to complement your ideal home.
---